Catalog > >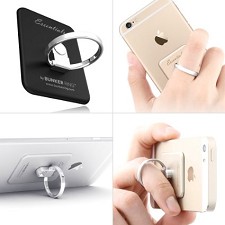 Metal Ring Cell Phone Holder
(code : Cell-Ring)
« Sealed boxes new»
2016
Metal Ring Cell Phone Holder

Looking for that unique, higher end retail product which everyone is talking about? You've found it!

Product: Made of Metal & PUV 1.57″ L x 1.38″ W x 0.28″ Thick. Available in Silver, Grey, Black, Gold.

This metal ring cell phone holder with reusable adhesive can stick to the back of your cell phone or tablet computer, any smart devices. The ring can also be used on the table and in the car, and provide a fantastic viewing angle to watch videos. The special adhesive gives you freedom to move the Cell- Ring from phone to phone. You have full control of the angle.

The ring rotates 360 degrees & swivels 180 degrees. Do not need to worry about your cell phone slipping out of hand any more.


Regular price : 16.99CAD
Special price : 5.14CAD
CASH/INTERAC price : 4.99CAD
In Stock : 0
Product not available
Learn more about the delivery charges with Canada Post